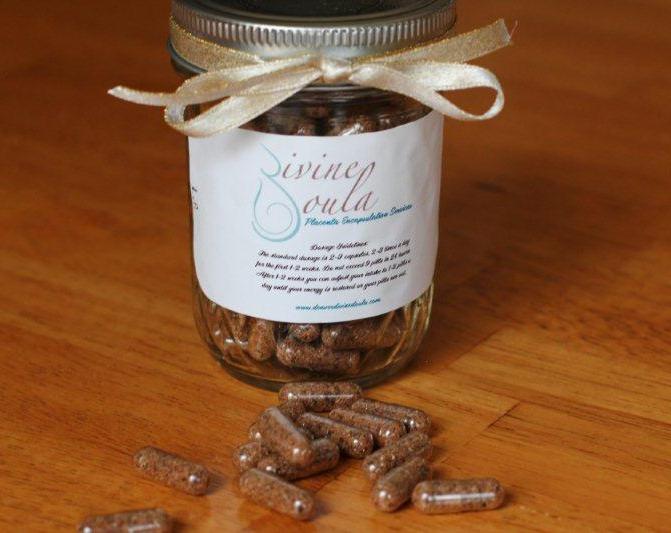 What is Placenta Encapsulation?
The placenta is rich in vitamins, minerals, iron, protein, and hormones with healing properties. The process of encapsulation allows a woman to benefit from her placenta's medicinal properties, naturally aiding postpartum physical and emotional recovery.
Western cultures are beginning to recognize what those in the East have known and practiced for thousands of years-the placenta is a powerful, natural tool in the postpartum healing process.
Placenta Encapsulation allows a woman to easily, safely and comfortably ingest the placenta in the form of tasteless capsules. It is highly suggested the the placenta be encapsulated 24-48 hours after delivery, otherwise the placenta needs to be frozen until it can be prepared.
What are the Benefits?
Placenta Encapsulation:
Helps prevent the "baby blues" and postpartum depression (PPD).
Restores hormonal balance while replenishing the body with perfect amounts of iron and protein.
Enhances milk supply.
Can shorten postpartum bleeding.
Facilitates the mother-child bond.
Boosts energy and combats stress.
Stimulates the immune system.
What are the Encapsulation Options?
Steamed Placenta Encapsulation
The placenta is cleaned, gently steamed, dehydrated, ground into fine powder, and put into capsules.
Traditional Chinese Medicine Placenta Encapsulation
The placenta is cleaned and steamed with a special formula of herbs that tonify and further enhance the placenta's ability to help mom reach her perfect balance. This method will work to create balance of the mother's Yin and Yang while rebuilding vital Qi energy.
Tincture
Prior to encapsulation, a portion of raw placenta is set aside and mixed with 100 proof vodka (and must ferment for 6 weeks), creating a long-lasting remedy to help alleviate the symptoms of PMS, depression, and menopause. The tincture can also be diluted and used to help your baby with stressful situations and life transitions including mom going back to work and teething.
Why Hire Divine Doula for your Encapsulation Needs?
I have personally benefited from placenta encapsulation and can share first hand why I think this precious resource is so helpful for postpartum women.
I am well trained and I:
Completed a Placenta Encapsulation Certification Workshop Training.
Trained with a Traditional Chinese Medicine Practitioner. I received instruction about the Chinese herbal formula blend and its balancing properties, which compliment those of the placenta and observed a complete encapsulation using this method.
Passed the Bloodborne Pathogens exam for Doulas, Midwives, & Placenta Encapsulators.
Follow all OSHA and EPA requirements for Placenta Encapsulation.
Have done over 275 encapsulations and have over 11 years experience.
Additional Services
Placenta Print
The placenta can become a beautiful piece of art and keepsake when preserved in print form. Using blood from the placenta and acid-free paper, the shape, size, and unique qualities of your placenta are forever saved in art.
Umbilical Cord Keepsakes
The umbilical cord is dried out and formed most often into a spiral, allowing you to forever keep and remember this precious connection between mother and baby.
Service Pricing
Steamed Placenta Encapsulation $160
Traditional Chinese Medicine Encapsulation $180
Tincture (60ml) $25 ea.
Berry Flavored Capsules (in place of gelatin or vegan) +$6 (Currently out of stock)
Placenta Print (if desired, complimentary with purchase of placenta encapsulation)
Umbilical Cord Keepsake (if desired, complimentary with purchase of placenta encapsulation)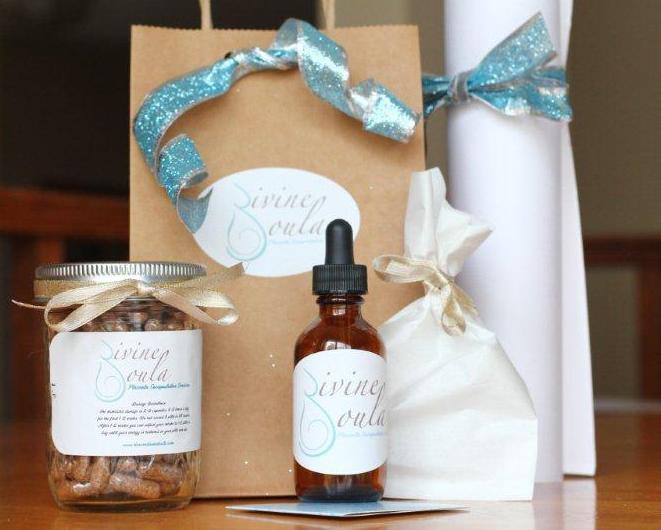 Terms
Placenta Encapsulation Intake Form, Waiver, Blood Work, and half your total fee (depends on services you are requesting) must be received by 39 weeks to ensure your slot on my calendar, at which time I will go on call for you. The remainder of the balance is due at placenta drop off. Cash, checks or Venmo accepted. There is $20 fee for all returned checks. (If you are past 39 weeks, and still desire this service, email me to check about availability!)
Disclaimer
The information presented above has not been evaluated by the FDA. The services on this page offered by Divine Doula are not clinical, pharmaceutical, or intended to diagnose or treat any condition. Families who choose to utlilize these services are assuming all responsibilty and will not hold Divine Doula liable.